Gurgaon could be considered the new corporate center of the Delhi-National Capital Region. The demand for apartments and flats is unavoidable given the number of people looking for new employment prospects.
If you are also looking for a rental place in Gurgaon but don't know which locality to search for, then you have come to the right place. In today's article, we will look at the top 7 affordable localities in Gurgaon for rent. So let's look at these localities one by one and find the best area for you.
What Makes Gurgaon An Ideal Residential Place?
Gurgaon's strategic location near the national capital, Delhi, provides residents with easy access to cultural landmarks, historical sites, and a wider range of employment and entertainment options. 

Gurgaon is known for its emphasis on safety and security. The city has well-equipped police forces, efficient emergency services, and gated communities with 24/7 security systems, providing a safe living environment for residents and their families.

Gurgaon boasts excellent infrastructure and connectivity. It is well-connected to major highways, including the Delhi-Jaipur Highway and the Delhi-Gurgaon Expressway. 

Gurgaon offers a dynamic urban lifestyle with a perfect blend of modernity and cultural diversity. Its bustling cityscape, high-end shopping malls, entertainment centers, and gourmet restaurants make it an ideal residential property in Gurgaon place for those seeking an active and cosmopolitan lifestyle.
7 Affordable Localities In Gurgaon For Rent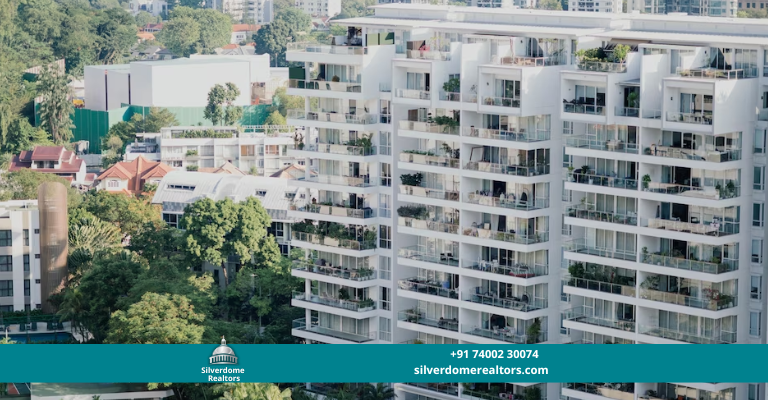 Gurgaon, a bustling city in the state of Haryana, India, offers a plethora of affordable rental options for individuals looking for a comfortable and budget-friendly place to live. With its rapid development and proximity to Delhi, Gurgaon has become a sought-after destination for professionals and families alike. 
Whether you're a working professional or a student, there are several affordable localities in Gurgaon that offer a great balance of convenience, amenities, and affordability. In this article, we will explore seven such localities' real estate properties in Gurgaon that provide affordable rental options, making it easier for you to find your ideal home within your budget.
One of the nicest places to live in Gurgaon in South City 1, which is next to the HUDA City Centre and stretches all the way to the NH-48 (Delhi-Jaipur Highway). A residential neighborhood called South City 1 encompasses most of Gurugram's Sector 40 and a tiny portion of Sector 41. Although there are many markets in the area, Sector 41's Arcade Market primarily serves the neighborhood. 
The area is also close to Gurgaon's Sector 29, an upscale commercial district home to numerous upscale restaurants and breweries. The well-known amusement centers Kingdom of Dreams and Appu Ghar Water Park are also close by.
Within the rental price range of 15 to 20 thousand rupees per month (r.p.m. ), this is one of Gurgaon's most rapidly developing neighborhoods. In areas like DLF New Town Heights, it's simple to discover 1 to 2 BHK apartments. This area is relatively close to some of the most opulent neighborhoods, including DLF Garden City and Regal Garden.
The area around Sohna Road is one of the best places in Gurugram for families to live due to the presence of numerous upscale gated communities. Major roadways including Sohna Road, NH-48 (Delhi-Jaipur Highway), Golf Course Extension Road, and Southern Peripheral Road provide excellent access to other areas of Gurugram, Delhi, Faridabad, and Sohna.
Additionally, it is the location of several tech parks and employment zones, including Candour Business Park and Bestech Business Tower. Major hospitals and educational institutions are also located nearby.
Palam Vihar Extension, a center for affordable housing that is dominated by villas and apartments, is one of the Real Estate Consultants in Gurgaon well-connected neighborhoods. The area has good inter-city connectivity and is located about seven kilometers from Cyber City Metro Station and five kilometers from Gurgaon Railway Station. Furthermore, NH-48, which connects all of Gurgaon to Delhi and Rajasthan, is around eight kilometers from Palam Vihar Extension. 
The neighborhood's typical rental 'ask' ranges from Rs 6,000 to Rs 18,000 per month.  However, it is projected that they may worsen after the Palam Vihar Extension Metro Station and other forms of social infrastructure are built.
Another one of Gurgaon's top neighborhoods is Sushant Lok 1, which is situated between MG Road and St. Thomas Marg. It is located close to the HUDA City Centre and IFFCO Chowk Metro Stations on the Delhi Metro Network's Yellow Line. Sushant Lok 1, a green community with a wealth of high-quality infrastructure, is one of the most popular communities for families in Gurugram.
Nirvana Country 1 is a 500-acre integrated township that was built by Unitech Group and is situated in Gurugram's Sectors 50 and 51. These areas are home to a number of societies, including Sweta Central Park, DLF Belvedere Park, The Close North, and Parsvnath Exotica. 
Here, 4 to 5 BHK flats come with opulent amenities like allocated parking, air conditioning, wardrobes, geysers, chimneys, modular kitchens, etc. These societies also include other amenities like a Central Park, a pool, a gym, rainwater harvesting, etc.
One of Gurgaon's most popular housing areas is Rajendra Park, which is situated along the future Dwarka Highway. The community provides inhabitants with the convenience of living thanks to its many social amenities and well-connected roadways. Rajendra Park has an advantage over other regions due to the large selection of builder floors, villas, plots, and society apartments in the inexpensive budget category.
In this area, the average residence costs between Rs 3,700 and Rs 4,000 per square foot after an annual appreciation of around 20%. Being close to the planned metro line and the future commercial properties in Delhi NCR -Alwar RRTS corridor would be beneficial for the area's connectivity as well as its housing market.
In conclusion Gurgaon has several affordable residential localities, but prices of these areas might increase in upcoming times hence it is essential to understand the pricing and rental rates of each area before choosing a locality.
Also Read: Commercial Property in Gurgaon
1. Are there any affordable housing schemes or projects in Gurgaon?
Yes, the Haryana Government has initiated several affordable housing schemes in Gurgaon. These schemes aim to provide affordable housing options to low and middle-income groups. Some notable projects include the Affordable Housing Policy 2013 and the Pradhan Mantri Awas Yojana (PMAY) in Gurgaon.
2. Are there any upcoming developments or infrastructure projects in these affordable localities?
Yes, Gurgaon's affordable localities are witnessing ongoing and upcoming infrastructure developments. These include the expansion of roads, construction of new metro lines, and the establishment of commercial and retail centers. These developments contribute to the overall growth and value appreciation of these localities.
3. Are there any social and recreational amenities available in affordable localities?
Affordable localities in Gurgaon offer a range of social media like Facebook and recreational amenities. You can find community centers, sports facilities, parks, and gardens where residents can engage in activities and socialize with their neighbors. Additionally, some localities may have shopping complexes and entertainment centers within a short distance.