Best Commercial Property in Gurgaon: One of the top cities in India for both living and working in Gurgaon. It began as a hub for call centers and is currently the location of some Fortune 500 and multinational corporations (MNCs). Gurgaon has been the top investment location ever since India began to accept international investments in the 1990s. Several Indian corporations and foreign investors have invested in various Gurgaon neighborhoods. The city offers a variety of office space configurations, retail locations, and other commercial investment opportunities.
Silverdome Realtors works with reputable real estate developers with Gurgaon commercial projects in various phases of development, including M3M, Adani Group, Supertech, DLF, Raheja, and Godrej Properties. A number of investors have been drawn to Millennium City by the city's strong infrastructure and the government's changes to laws and regulations. The most sought-after areas in Gurgaon for purchasing commercial real estate include sectors 70, 71, 48, 65, 109, 113, 84, DLF City Phases 1 and 5, and Golf Course Extension Road. The most sought-after commercial real estate for investment in Gurgaon has been small office spaces because they are more liquid and fit the ordinary buyer's budget.
Gurgaon's commercial property is increasing in capital value and rental value, which has kept the market stable even during the worst of the real estate downturn. Some of the top commercial real estate developments in Gurgaon can be found at Silverdome Realtors. With more than 9 years of expertise in real estate, we are among the best real estate consultants and solutions in Gurgaon.
Factors to keep in mind while buying the best commercial property in Gurgaon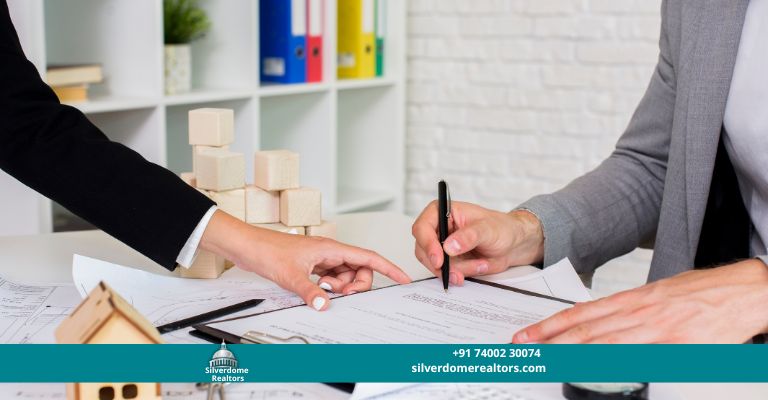 If you want to buy a commercial property in Gurgaon in a satisfactory area, you must look for these crucial factors that will help you not only buy the appropriate property but also will help you to grow professionally. When searching for the best commercial property in Gurgaon, there are several factors that you should consider to ensure that you make the right investment.
Green Revolution: When making an investment in commercial property and running a business for your financial growth you should consider green-housing projects that use leading-edge technology to secure finances on power costs and offer various health benefits. Every businessman should have this mentality to keep an environment-friendly atmosphere.
Obtain Proper Professional Assistance: Seeking proper professional assistance is as important as buying commercial real estate property in Delhi. Correct guidance may result in your overall growth and development from a capable real estate consultant from a company like Silverdome Realtors. They are experienced and possess great knowledge to get you the best office space in the perfect location in Delhi. They also take care of all the money-related and legal prospects of the situation.
The Reputation of the Developer: You should seek out a reputable builder if you want to purchase the quality best commercial property in Gurgaon. They assure you that the property is well equipped with all the amenities and is worth spending money on which further ensures that the property will be obtained without any difficulty to the buyer. For your assurance, get their prior successful dealing reviews as well. Have words with people they interacted with and Check out what reviews their consumers have about them.
Also read: Best Residential Property in Gurgaon
Growth and Earning Criteria: If you want to purchase an office space in Gurgaon, two major factors that strike your mind are looking for the growth factor and the other is that you'll want to take a look at its growth and money spinner potential. You need to be aware of the properties which are still under development. Because it is always good to have a property that could pay you back some profits and help to enhance your professional as well as financial growth.
6 Best Commercial Properties of Gurgaon
1. M3M Paragon
The Well-Known M3M Properties Have Started A New Commercial Development In Gurugram Called M3M Paragon57 Sector 57. The Project Is Started Near The Ideal Location. The Upscale Commercial Development Is Conveniently Located, Making Shopping Accessible To Everyone. This Construction Features Opulent Amenities In Addition To First-Rate Commercial Spaces With Double-Height Shops And Restaurants Providing A Variety Of Cuisines.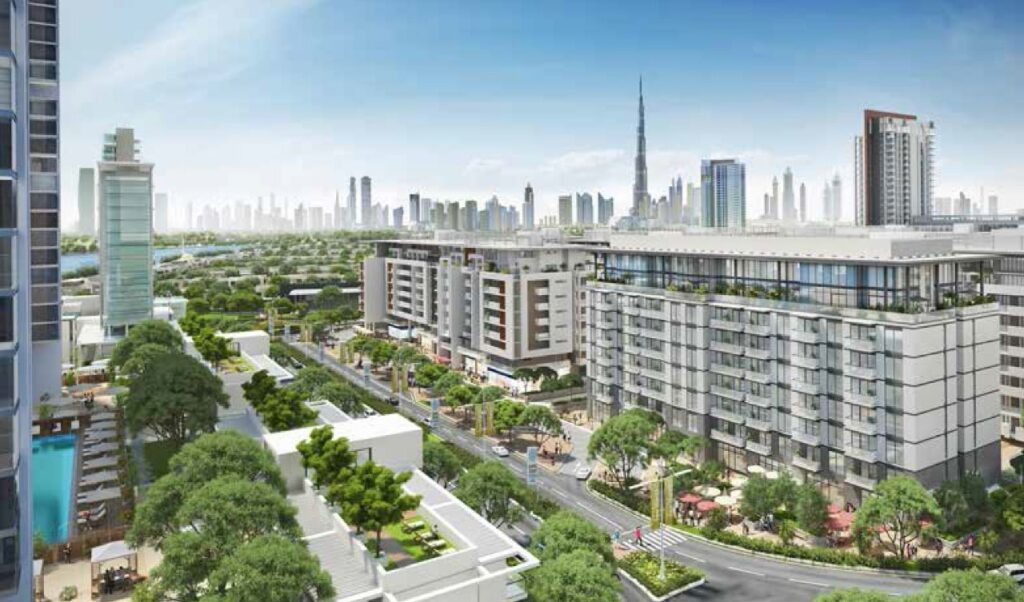 Designed By GPM Architects & Planners, The Project's Total Size Is 1.5 Acres And Includes Retail Shops, Restaurants, And Food Courts.
Gurgaon-Faridabad Connectivity: Golf Course Extension Road And Sector Road On Both Sides.
Highly Visible Triple Height Shops On The Ground Floor, Hi-Street Retail On The Second And Third Floors, And Only For Food And Beverage.
2. M3M Jewels
The Crown Jewel Of An Illustrious Line Of Well-Known Retail Developments, AIPL Joy Gallery, Is AIPL's Latest Flagship Mixed-Use Project. This One-Of-A-Kind Architectural Monument, Situated In Gurugram's Busy Sector 66, Will Revitalise The City's Skyline And Soul With Its Bold Curves And Dynamic Exterior.
This Mixed-Use Building Is An Accomplishment In Innovation And Artistry. It Has A 4-Story-High Retail Area, A Signature Jewel Box With A Supercharged Fashion And Culinary Experience, And An Office Tower.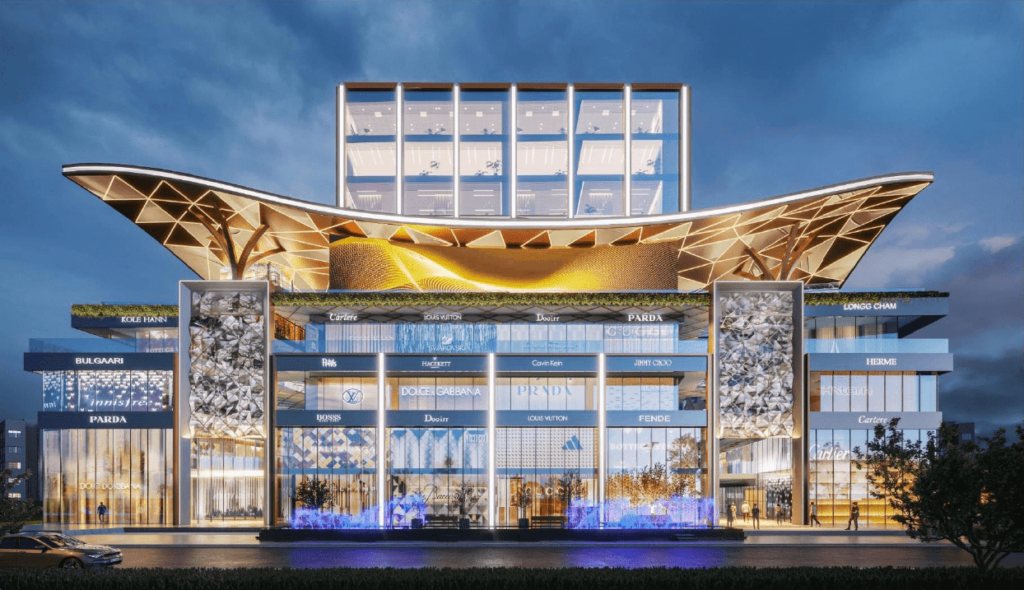 Spanning 4.28 Acres And Measuring 3,41,564 Square Feet In Total.
Located In Sector 66 Of Gurgaon On The Main Golf Course Extn. Road.
A Luxurious Mixed-Use Retail Development
A Happy Mashup Of Upscale Department Stores.
F&B Outlets Include Cafes, Restaurants, And Food Courts.
Zone Of Entertainment.
3. AIPL Joy Gallery
AIPL One of the top Gurgaon developers, AIPL, created the stunning project Joy Square. The project, which spans 2.84 acres, provides good residential alternatives in sizes from 250 square feet to 5000 square feet. The project is perfectly situated on Golf Course Extension Road, on an open plot with four sides for optimal ventilation, and close to forthcoming Premium Residential Apartments. The project has great arterial connectivity and is well connected to Sohna Road.
The project AIPL JOY SQUARE in Sector 63A, Golf Course Extension Road, Gurgaon, is exceptionally well-planned and developed. This would be the lone project among roughly 15000 residential dwellings. Retail stores, food courts, and the service/studio apartments today's most sought-after investment can be found at AIPL JOY SQUARE.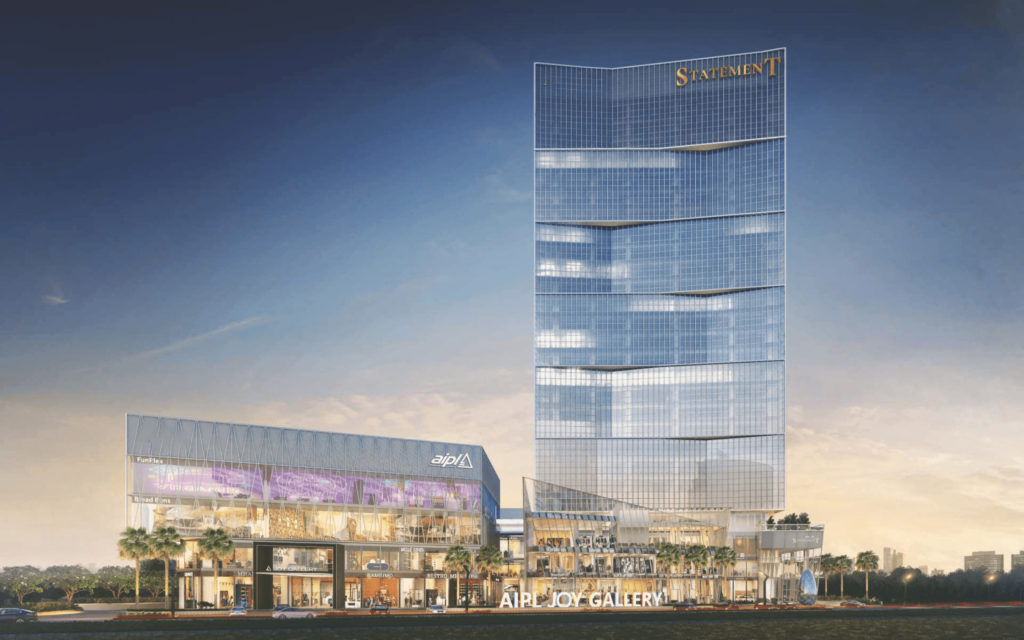 A 4-side open plot, AIPL Joy Square is spread out over approximately 2.84 acres.
Building AIPL JOY SQUARE is G+9 Floors.
4 basement levels and surface parking
Supermarkets are located on the lower ground floor, high street retailers are located on the first and second floors, food courts, cafes, and retail stores are located on the second floor, and branded serviced residences are located on the third to ninth floors.
The project provides users with four different payment options.
In AIPL Joy Square, there is a sizable parking lot.
24-hour security monitoring
Also read: Stamp Duty on Property in Delhi – Registration and Charges
4. AIPL Autograph
The AIPL Autograph Was Constructed By Advance India Projects Limited (AIPL). On The One Hand, AIPL Is A Prominent Developer In Maharashtra, Punjab, Rajasthan, And Delhi (NCR). Additionally, It Provides Various Residential, Business, And Retail Properties In Some Locations. Over The Past Three Decades, AIPL Has Expanded Quickly And Steadily. By Using Innovation And Perfection, The Primary Goal Is To Bring Quality Advancements To New Heights.
All Three Towers Are Joined By Common Parking Spaces At The Basement Level, Which Has Three Levels And Abundant Surface Parking.
Lobby And Lounge With A Triple-Height Entrance Covering About 20,000 Square Feet.
A Sizable Open-Air Plaza Connecting Three Skyscrapers.
The Autograph Executive Club, Which Crowns The Rooftop Of Tower 2 And Offers Amenities Like A Lap Pool, A Gymnasium, And A Clubhouse For Corporate Parties, Is Very Visible From All Shop Fronts.
5. AIPL Joy Street (Sector 66)
An incredible home with a variety of amenities and services is available for purchase at AIPL Joy Street Gurgaon. This includes easy access to concierge service, a food court, and valet parking. It also contains a pool, which is only available to AIPL Joy Street residents. Every need and desire may be met at AIPL Joy Street with its superb comfort and convenience combo.
A good opportunity for investment
3 open-side properties, automated house access management, and environmentally friendly surroundings
Beautiful national park view
Commercial locations and food courts
Conveniently accessible eateries, multiplexes, and retail stores.
In the opposite direction of the Andhra Club, 2 minutes from the Agada Hospital, 5 minutes from the DMS Metro Station, 2 minutes from the Holy Angels School, and 2 minutes from the Pondy Bazaar.
6. AIPL Joy Square (Sector 63)
Advance India Projects Limited is creating the Sector 63 home development in Gurgaon known as AIPL Joy Square. The project offers a variety of amenities in consideration of residents' needs for a modern lifestyle. The amenities at AIPL Joy Square include Internet and Wi-Fi, a landscaped garden, power backup, a gym, and a swimming pool. ATMs, hospitals, clinics, schools, and parks are all conveniently located. Also, there is a good transit and road network in the neighborhood.
AIPL Joy Square is a 4-Side Open Plot with a Spread of Around 2.84 Acres.
Building AIPL JOY SQUARE Is G+9 Floors
4 basement levels and surface parking
The supermarket is on the Lower Ground Floor, High Street Retail is on the Ground and First Floors, Food Court, Restaurants, Cafes, and Retail Shops are on the Second Floor, and Branded Serviced Residences are on the Third to Ninth Floors.
Sky-facing courtyards.
Conclusion
if you're planning to invest in the best commercial property in Gurgaon, the options we've listed above offer excellent value for money. These developments provide modern amenities, prime locations, and a high level of comfort to enhance your business operations. Whether you're looking for fully-furnished or bare-shell spaces, there's something for everyone in Gurgaon. So, take the leap and invest in the best commercial property in Gurgaon today. We wish you the best of luck in your commercial ventures!