Looking for land to build your house in Gurgaon?
It has been a little more challenging to own a house that you can name – Your home. As real estate prices have reached all-time highs in recent years and expenses keep rising. But because you've found the ideal location, there's no need for you to seek any further. We will be more than pleased to assist you with any real estate projects you may have in Gurgaon.
As is well known, Gurgaon is one of India's major centers for the financial, banking, and information technology industries. Having a place of your own in such a contemporary and promising area is a blessing, and we will assist you in narrowing down one of the locations listed below and giving you your well-deserved portion of your lifetime happiness. There is constantly a sensation
Things to consider before buying residential property
There are several factors that will put a dilemma in your mind as to how to make a decision for purchasing a property. If you're looking for the best residential property in Gurgaon, it's crucial to research the market thoroughly. Here are a few things mentioned that contain all the necessary points you must consider to make an appropriate property-buying decision.
1. Setting a Budget
One of the things which are on priority on your checklist before buying property in Gurgaon is the amount of money you can afford to purchase the property. This is the stepping stone for huge investments and needs proper planning. To start this, jot down all your expenses and sources of income to handle the amount you are likely to be left with each month after keeping aside all the essential investments for your comfortable living. Also, have a quick check of your savings and other expenses to check for down payment management, and then you are ready to set your budget according to a plan.
2. Construction Quality
Whenever you visit any property, check the quality of the construction which means you will look for the overall look of the building, finishing the walls and whole building, and if the building is newly built or needs renovation. Check out the paint of the building as well.
Check for the electricity management of the building, fittings, tile quality, etc. If the building is not built yet and is under construction, do all the research about the builder and his reviews from his customers in the past.
3. Amenities Presented
Always look for the amenities like workplace environment, parking, lower back facilities, lift, gym, etc. You should check for all kinds of facilities offered along with the property. Water and power supply should be kept on the priority list because no matter how luxurious a place is, scarcity of water would make your survival worse make sure buildings have no frequent power cuts because that would further irritate the person.
Some people might adjust to a minimal amount of things, while others may not. So it may vary according to a person's nature. But talking on the business front if you need your property to have great resale properties and you must look for all the amenities possible. In a nutshell, these necessities may matter to you as well people associated with you.
Also read: Stamp Duty on Property in Delhi – Registration and Charges
4. Evaluate the Resale Value
Buying property without evaluating its resale value is of no use especially when the buyer is buying the property for investment purposes rather than taking shelter in it and having strategies to sell it sooner or later. So make sure you get a commercial or residential property that has high rental potential or high resale value.
5. Property Insurance
Nobody is fortunate enough to know their fate but can always keep the safe side in case something happens that is not in your favor. You just need to get in touch with a few insurance policies from various banks/finance companies. Always ask for the amount of money you need to invest for all the formalities. For purchasing residential properties in Gurgaon you need to be well aware of all these insurances.
List of 10 Best Residential Property in Gurgaon
M3M Capital
Sobha City
Emaar Digihomes ( Sector 62 )
Smart World 113
Krisumi Waterfall
M3M sector 79
DLF 93
Birla Navya (Sector 63)
Whiteland Blissville (Sector 76)
DLF The Grove – DLF Phase 5 (Sector 54)
1. M3M Capital
Each Apartment In The M3M Sector 113 Project Offers A Lavish Lifestyle And Is Available In 2 Or 3-BHK High-Rise Apartment Configurations. The Project Layout Was Done With The Occupants' Comfort And Convenience. The Occupants May Enjoy The Abundant Natural Light, Exquisite Appearance Of The Surroundings, And City Skyline Thanks To The Enormous Windows And Broad Balconies. Given The Massive Demand For Rental Properties In This Metropolis, Such Opulent Apartments In Gurgaon Would Also Be Fantastic Investments.
The Project's Total Area Is 25 Acres.
Centre Green Of 8 To 9 Acres
Nine Holes Of The Golf Course.
Apartment Count: 700 ( In The First Face )
Lots Of Parking Spaces For Cars In The Basement.
1300 To 1700 Square Feet For Flats
View From A Three-Sided Open Apartment Of The Central And Delhi Greens.
Exclusive World Standard Club For Residents, 75,000 Square Feet.
2. Sobha City
A Unique Urban Park Residence Development Called Vista Residences Dwarka Expressway Sector 108 Gurgaon Is Being Built On 39 Acres. The Sheer Size Makes It Possible To Enjoy Expensive Views Of Greenery, More Conveniences, And More Sporting And Social Events. These Amenities Are Included In High-End Two- And Three-Bedroom Units. This Most Recent Design By VISTA RESIDENCES Is A Flawless Fusion Of Contemporary Living And Offers A Wide Range Of Lifestyle Facilities.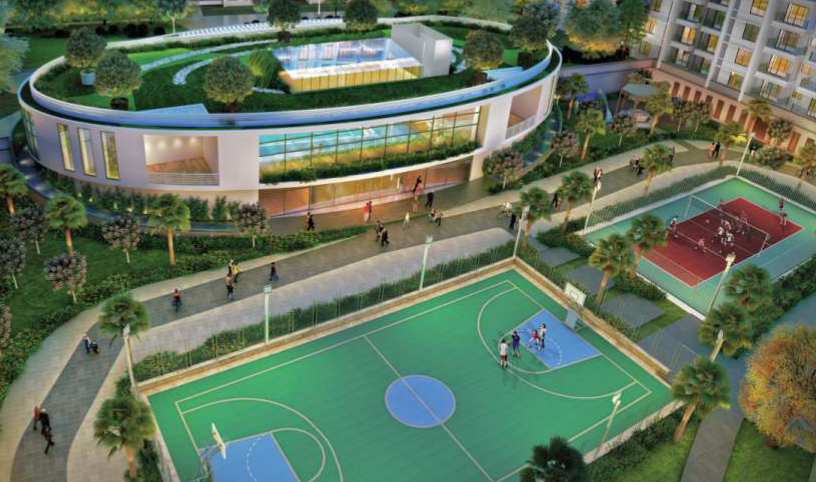 The Placement Of The Residential Towers At The Edge Of This 39-Acre Land Piece Is One Of The Distinctive Features Of Vista Residences' Master Planning. This Makes Facilities Accessible And Delivers Stunning Unobstructed Vistas From Every Unit.
Spacious and well-ventilated layouts.
More than one acre of celebration lawn, 270-degree views from every home, All bedrooms with home offices, and no apartments facing each other.
More Than one acre of celebration lawn and a Lakelet with one acre of Land.
3. Emaar Digihomes (sector 62)
One Of The Best Areas In Gurgaon To Purchase A Home Is Sector 62. Sector 62 Contains Ten Residential Development Projects. Imperia Mindspace, AIPL Business Tower, Heritage School, And Other Significant Monuments Are Close To Emaar Digihomes. Sector 62 Is Undoubtedly An Excellent Spot To Call Home Because There Are Substantial Amenities.
Clubhouse With Three Levels Of Modern Facilities. 
Homes That Are Prepared For The Future By Morphogenesis, One Of Asia's Top Design Firms.
A Beautiful Landscape Created By Architectural Consultant Oracle.
Apartments With Good Ventilation And Natural Lighting.
Three-Sided Open Homes
Voice-Activated Gadget For Controlling
Intelligent Mood Lighting With Voice Control And Automatic Curtains
Also read: Things to Remember while Paying your House Tax in Gurgaon
4. Smart World 113
New Real Estate Construction High Rise Apartments By Smart World Developers, Located In Sector 113 Of Gurgaon's Dwarka Expressway, Is An Ultramodern, Upscale Township That Offers Its Patrons An Unforgettable Experience. Want To Live In A Place That Lifts Your Spirits And Gives You Peace Of Mind? Consider Smart World Sector 113 Gurgaon. Luxury, Three- And Four-Bedroom High-Rise Homes With Modern Conveniences Will Be Available In The Area.
The Residences At Smart World 113 Gurgaon Are Surrounded By A Creek, Giving It A Peaceful Place To Unwind. Because Smart World Floors In Gurgaon's Sector 113 Is Located In The Countryside And Adjacent To The Aravalli Mountains, It Provides You With Stunning Views And Clean Air To Breathe. The Houses Are Made Using The Most Modern Materials.
Just A Minute Away From Every Modern Convenience
Panoramic Observatory Deck With City Skyline View
Approximately One Lakh Square Feet Of Luxury
Beautiful Landscaping With A Centre Green And Amenities On 6 Acres.
Just A Minute Away From Every Modern Convenience
Morning Jog On The Rooftop's Jogging Track, Which Is Healthy And Fresh
5. Krisumi Waterfall
A Luxurious Housing Development In Gurgaon's Sector 36A Is Called Krisumi WaterFall Residences. Waterfall Residence Is A Certified ARera Project Registered In Haryana With The RERA Number RC/REP/HERRERA/GGM/2018/03. The Project Is Finishing Before Its June 2024 Deadline For Completion. With Roomy Apartments Of Various Sizes, The Project Is Elegantly Designed. Located Amid Nature, WaterFall Residences Offers You Ultra-Modern And Elegant Luxury Homes.
The Development Provides Lots Of Open Space And Ultra-Modern Amenities. Only 433 Apartments Are Included In The Project, Which Is Situated On 5.43 Acres Of Land Next To NH-8. Options Are Available In The 25/28/35 Floor High-Rise Apartments. The Apartment Area Sizes Start At 1478 Square Feet And Go All The Way To An Extending Area Of 2503 Square Feet.
The First Phase, With Around 450 Residences (1.2 Million Square Feet), Will Be Finished In 4-5 Years.
This Year Is Anticipated To See The Start Of The Project's First Phase Of Construction.
Over Ten Years, A 65-Acre Township Will Be Built In 5-8 Phases, Adding About 5,000 Apartments (Or About 18 Million Square Feet).
The World-Famous Japanese Design Company NIKKEN SEKKEI Created The Architectural Vision And Master Plan For Krisumi City Gurgaon.
In Addition, The Development Will Include A High-End Shopping Centre, Educational Facilities, A Luxury Hotel, And Office Spaces.
6. M3M sector 79
A Remarkable 2 And 3 BHK Low Rise Apartments Are Marketed As Gurugram's Most Up-To-Date Private Locations, Taking Advantage Of The Unrivalled Conveniences Of Modern Living In The City's Growth Gateway. Many New Gurugram's State-Of-The-Art Developments Are Close To The Project. M3M India, A Stunning Residential Development Of M3M Floors Sector 79 In The Magnificent Location Of Gurgaon, Will Soon Be Available. This Home Is Located In Gurgaon's Amazing Sector-79.
Project's Total Area Is 25 Acres.
Centre Green Of 8 To 9 Acres
Nine Holes Of Golf
Apartment Count: 700 ( In The First Face )
View From A Three-Sided Open Apartment Of The Central And Delhi Greens
Club Of The Highest International Calibre For Residents, 75,000 Square Feet
There Is Plenty Of Parking In the Basement
7. DLF sector 93
DLF Real Estate Builders Limited Has A Residential Plot Called DLF Gardencity Enclave. This Land Is For Sale In Gurgaon's Sector 93. The Project Offers Various-Sized Plots. The Minimum And Maximum Plot Sizes Are 1265.0 And 1615.0 Square Feet, Respectively. The Start Of This Project Began In April 2022. The DLF Gardencity Enclave Has 367 Residences. Sector 93 Is The Location Of DLF Gardencity Enclave.
Contemporary Conveniences And Features On Luxury Floors 
MySpace – Space For Home Offices, Libraries, Gyms, And Lounges Modular Kitchen With Hob And Chimney Separate Visitors Parking Fully Air-Conditioned Lift Lobby And Entrance Lobby.
5-Tier Security With Smart Access Card Control Landscaped Oxygen Terrace.
Double-Height Air-Conditioned Lift Lobby Vast Open Spaces With Beautiful Landscapes High-Speed Elevator.
8. Birla navya sector 63
Birla Navya is a township project with a total area of 1,90,202 square meters and 5 autonomous pockets, where architecture and amenities, residents and the community, and social and personal interactions all coexist. Two pockets are included in the first stage of construction: Drish, which is surrounded by greenery and offers unrivaled scenery, and Amanda, which is planned to have a thriving social life in the neighborhood. The large clubhouse, which has a total square footage of 13,935 square meters (about 1,50,000 square meters), is crammed with cutting-edge amenities designed to promote a variety of social contacts and enhance family time.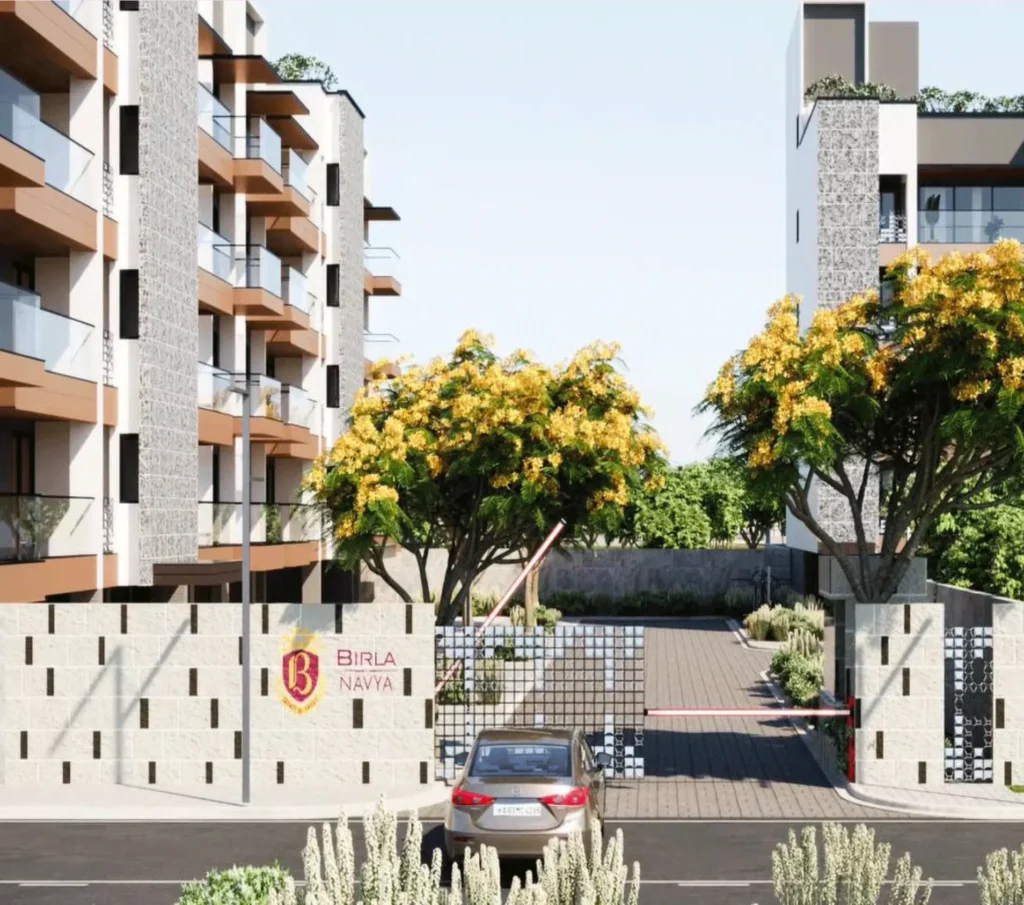 Grand Entry Lobby Experience at SUNKEN COURT. 
One of the very few Premium Low Rise Floors exercise centers and play spaces with IGBC Gold Pre-certification.
Amenities that fit every budget
Unit for Purifying the Air Outside
Basement private terrace/sunken court
Community Back Lawns are experiencing green spaces with a landscape created by international designers, featuring 2 Lifts for only 8 Properties.
9. Whiteland blissville (Sector 76)
The developer provides 3 BHK low-rise luxury apartments in a variety of sizes, from 1300 square feet to 1690 square feet. Whiteland Blissville sector 76 Gurgaon is spread out over 20.76 acres of land and has 444 flats built on it as well as a 30,000 square foot clubhouse. Residential Developments in Whiteland Blissville Sector 76 of Gurgaon Gurgaon is situated in a prime area in Gurgaon, sector 76, and provides the best access to the city's important attractions.
Life here embraces the routine and goes outside the home. Visit Sector 76 in Gurgaon, India, next to Golf Course Extension Road, to experience it. Whiteland Blissville stands out among the luxury 3 BHK residences in Gurgaon. One automobile, a 30,000-square-foot clubhouse, landscaped gardens, and other features are available.
Nine kilometers separate this project from Gurugram's famous Subhash Chowk.
Also, a 5-minute signal-free drive connects this property to the Dwarka Expressway.
These low-rise residential levels were bordered by numerous international schools.
A lot of shopping centers, including malls and foreign stores, are also accessible by foot from this property.
Within 10 miles, Golf Course Extension Road links these low-rise residential floors.
Furthermore, it just takes 15 kilometers to drive to Gurugram's busiest metro station, Huda City Centre.
This Whiteland Group project is a 2-minute drive from the Manesar toll plaza.
10. DLF The Grove – DLF Phase 5 (Sector 54)
For a select few discriminating individuals seeking exclusivity and a privileged lifestyle, DLF offers a limited release of luxury properties. Nestled in a small community in the center of DLF City, Gurugram, this exceptional chance to own your own independent home is available. Unorganized and devoid of branded residences, the independent floor market.
The market would be positively impacted by DLF introducing its independent floors, making them a product that would continue to sell. A big lifestyle is offered by the builder & independent floors by DLF 5 for homebuyers looking for a roomy and opulent dwelling in Gurgaon. This property development provides exceptional location advantages and is only 15 minutes from the airport. Depending on the homeowner's needs, these houses are ideal for both personal and business use.
Gurgaon's Golf Course Road has a bang.
DLF Summit, Crest, and Park Lane are nearby.
Lifetime Support
Completely Equipped Apartments, Servant Quarter Private Terrace, Basement with Storage Room and Work from Home Office Spaces
Conclusion
Gurgaon is a region where there is always a high demand for real estate. The excellent connectivity that this city provides is a key factor in the same. It tempts property purchasers since it is well-connected to Delhi, Faridabad, Sohna, Jaipur, Kundli, and Rewari. Also, there are other employment centers nearby. Many people have been actively making efforts to purchase some land in this prominent property location.