Gurgaon has established itself as a remarkable business and IT powerhouse. The city's commercial and industrial expansion has increased as a result of the significant influx of IT-based businesses. Gurgaon is well-known for numerous opportunities. Somehow, this led to a rise in demand for residential real estate throughout the city. 
There is a significant demand for posh societies to live in Gurgaon from house buyers who want solid connectivity. Gurugram has become known as a representation of growth and modernity thanks to its tall structures, upscale business areas, and opulent residential neighborhoods.
However, it can be difficult to choose the perfect residential society for you in this crowded location. Hence to help you with this we have listed top 5 lavish societies to live in Gurgaon. So without any further delay let's look at these societies one by one.
Benefits of Investing in Residential Societies in Gurgaon
In India's expanding real estate market, purchasing residential societies in Gurgaon is a lucrative prospect. Gurgaon's strategic position, established market, and quick urban growth make it the perfect place for profitable returns on investment.
A steady demand for housing is generated by the city's cutting-edge infrastructure, corporate clout, and rapid industrial expansion, ensuring a steady pool of prospective tenants or buyers. 
This makes residential societies a desirable investment option, along with the high rental yields, potential for capital growth, and facilities that enhance the quality of life in the city.
Whether investment in Gurgaon's residential societies is done to achieve stable rental income, long-term wealth development, or portfolio diversification, it offers a route with resilience to market swings and the possibility for large financial benefit.
Top Posh Societies to Live in Gurgaon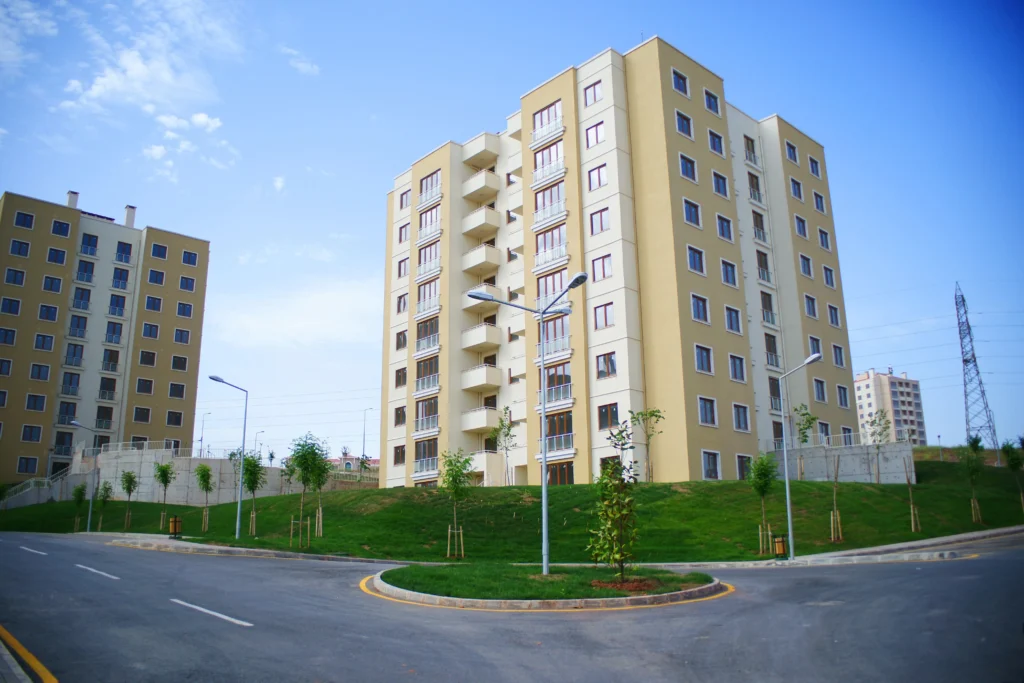 The Birla Navya township project includes five distinct enclaves and 1.9 lakh square meters (47+ acres) of premier level apartments.
The first phases of Birla Navya have won many people over with their well planned and vibrantly rich experiences. The luxury floor homes provide cutting-edge conveniences for a high-end lifestyle. More than 450 households now have the opportunity to develop faith in Birla Navya thanks to this.
At Birla Navya Gurugram, every aspect of life has been meticulously designed to offer high class amenities. It's a fantastic option for you and your family to enjoy leisure activities or thrilling sports thanks to the smart design. Every aspect was planned with your interactions with family and the same-minded community in mind.
The thoughtfully designed Waterfall Residences project is conveniently situated in Gurgaon's Sector 36A. The price range for the opulent Waterfall Residences property is INR 1.15 crore to INR 3.23 crore. Approximately 6 acres of land are occupied by the project. The 433 units in the block are situated in a quiet area.
The concept is well thought out, and all of the apartments are currently being constructed. Flats are one of the many varieties of available units that are intended to deliver total satisfaction. From 2 BHK Flats (1478.0 sq. Ft. – 1947.0 sq. Ft.) to 3 BHK Flats (1946.0 sq. Ft. – 2538.0 sq. Ft.), the generous property units range in size. The concept, which aims to make living more convenient, consists of three skyscrapers.
Residential development Sobha City is being built by Sobha Developers in Sector-108 in Gurgaon. 39.38 acres in all make up the project's footprint.  85% of it is open space. In all, Sobha City has 22 towers. There are 24 levels in the building.  There are 1728 units available for accommodation.
The project offers apartments with the ideal fusion of modern technology and architecture to ensure pleasant living.
Your privacy has been carefully considered in the efficient design of the homes in SOBHA CITY. The units don't have any common walls, and their doors don't face one another. Even more carpet space is made available in the apartments, which have walls that are only 160mm thick. With just 4 apartments on each floor, you have added space for the common areas.
The 1000 unit, 20 acre DLF Alameda project is situated in Gurgaon's Southern Peripheral Road. Apartments in the development range in size from 480 square feet to 1500 square feet and range in square footage from 4842 to 9000. The projected metro station, NH-8, and Sohna Road are all easily accessible from the project.
A world-class lifestyle is available at DLF Alameda, an opulent township. The township offers tourists parking, a sizable green space, open space, and 24 hour water supply. The township features a gym, a billiards room, a spa, a library, and many other amenities. It also offers 24-hour security, a large green area, green and open area, 24-hour water supply, visitor parking, and many more.
Gardencity Enclave is one of the newest neighborhoods available to homebuyers. In DLF Gardencity Enclave, there are apartments, standalone floors, and villas for sale.  It has amenities like power backup, a gym, and reserved parking. 
In addition to the swimming pool, there is a neighboring school and children's play area for families with young children. Cycling and jogging tracks, as well as a squash court, are available for use by sports enthusiasts.  
Restaurants/cafeterias and other amenities are available to residents as well.  Fire sprinklers are installed on the site.  24/7 security is provided. A gated community, that is. Access to Landscaping & Tree Planting, Storm Water Drains, Sewage Treatment Plant, Shopping Mall, and Maintenance Staff are additional provisions. There are options for visitor parking and enclosed parking for cars.
Numerous upscale societies in Gurgaon provide much more than just living quarters. There are many more upscale communities in Gurgaon; the ones mentioned here are only a few. Even if all societies offer first-rate infrastructure, up-to-date amenities, and modern facilities, it is advisable to live comfortably and peacefully by selecting a society that is close to your workplace.
Also Read:- Affordable Localities In Gurgaon For Rent.
Frequently Asked Questions_FAQs
1. Are posh societies in Gurgaon safe to live in?
Yes, posh societies in Gurgaon prioritize residents' safety and security. They usually have dedicated security personnel, CCTV surveillance, access control systems, and gated entry points to ensure a secure living environment. The added security measures contribute to the peace of mind of residents and are a significant factor attracting families and individuals seeking a safe place to reside.
2. What types of amenities can one expect in these posh societies?
Posh societies in Gurgaon offer a wide range of amenities designed to enhance residents' quality of life. These may include swimming pools, well-equipped fitness centers, spa facilities, jogging tracks, landscaped gardens, multipurpose sports courts, dedicated children's play areas, and even exclusive clubs or lounges for social gatherings and social media use like Instagram. The emphasis on amenities creates a holistic living experience within these societies.
3. Is the location of posh societies convenient for daily needs?
Yes, most posh societies in Gurgaon are strategically located near commercial centers, shopping malls, entertainment hubs, schools, hospitals, and business districts. The prime locations ensure that residents have easy access to all essential services, reducing travel time and making daily life more convenient.