The real estate investment in Gurgaon, often referred to as the Millennium City, has been a hotbed of investment activity for several years. Gurgaon's reputation as a corporate center is stronger than ever, attracting companies and boosting demand for office space.
Not just that there are many reasons that make Gurgaon an ideal place to invest and retain huge profits by 2024. Today in this article we will look in depth at everything you need to know before investing in properties in Gurgaon.
Overview of Gurgaon Real Estate
Before looking at the factors that make Gurgaon a good investment destination let us look at the overview of this millennium city.
Gurgaon's popularity is greatly influenced by its proximity to New Delhi, the capital city of India. Through a vast highway system, the Delhi Metro, and the Indira Gandhi International Airport, it is well connected to Delhi. Gurgaon has become a business center thanks to this connectivity, which fuels ongoing demand for both commercial and residential real estate.
Gurgaon has had substantial infrastructure growth over time. The city is a desirable area to live and work in due to its modern amenities, which include top-notch hospitals, schools, and shopping malls. 
Gurgaon boasts a thriving corporate sector, housing numerous multinational companies, tech giants, and startups. The existence of these businesses has resulted in a sizable influx of professionals and expatriates, which has increased demand for homes and office space.
Factors driving real estate investment in Gurgaon in 2024
Over the years, Gurgaon's real estate market has seen a steady demand for homes. As the need for residential and commercial space has increased, property values have increased as well, providing investors with significant gains. This increase has created a strong rental market that will provide larger profits in the future.
Due to Gurgaon's advantageous location inside the National Capital Region, the city's real estate industry has grown tremendously. The city's close vicinity to Delhi and extensive network of highway, metro, and motorway connectivity, including the KMP Motorway and the Delhi-Jaipur Motorway. This accessibility has fueled the demand for residential apartments in addition to luring business titans to locate their operations here.
The Real Estate (Regulation and Development) Act (RERA) and the Pradhan Mantri Awas Yojana (PMAY) are just two of the policy reforms changes the Indian government has made to support the real estate industry. These changes are intended to encourage openness, responsibility, and affordability in the housing market. Investors should anticipate a safer and more regulated environment in Gurgaon in 2024 as a result.
Upcoming Business Districts
Golf Course Road, Sohna Road, and Cyber City have all already made a name for themselves as premier business districts. Newer locations are expected to become business hubs in 2024, drawing corporate offices and startups. 
Infrastructure for well-being and Socialization
The acceleration of luxury housing has been largely fueled by a change in lifestyle, as the wealthy seek out these residences as a break from their routine lives and as a reflection of their comfort and grandeur. Modern amenities including a clubhouse, gym, spa, tennis court, badminton court, and swimming pools, as well as gated condominiums with round-the-clock security, are in high demand.
Key Areas to Invest in Gurgaon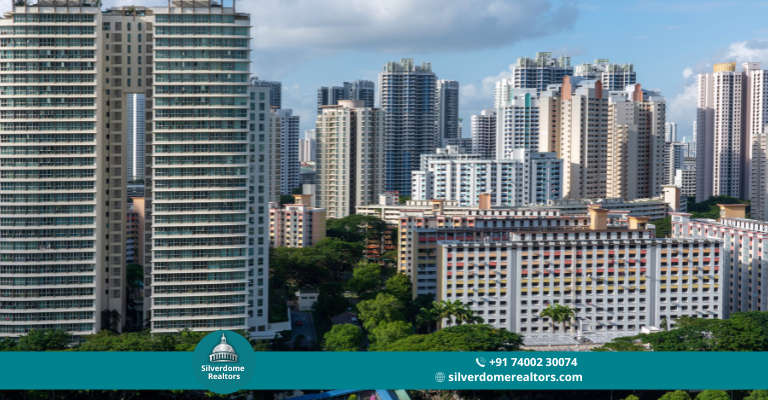 Dwarka Expressway is rapidly gaining attention as the upcoming IT hub and a prime location for real estate investment in Gurugram. Home buyers are turning to this promising neighborhood near the airport because it offers affordable real estate prices while the majority of neighborhoods in the city have reached saturation. The majority of the homes for sale in Dwarka Motorway are 2, 3, and 4 BHK flats, with typical sale prices ranging from Rs. 6,025 to Rs. 13,944 per square foot.
Along the Northern Peripheral Expressway (NPR) in Gurugram, Sector 88 is a fast-growing neighborhood with first-rate infrastructure and well-designed roads. Along with the presence of commercial and industrial sectors, Gurugram has seen a rise in residential construction, which improves the area's accessibility via local buses, shared vehicles, taxis, and the neighboring Garhi Harsaru Junction railway station. 
The suggested Metro corridors will enhance local transport even further. Sector 88 has easy access to air travel thanks to its closeness to the Indira Gandhi International Airport.
A significant commercial and residential corridor is rising along Sohna Road. It provides a variety of housing choices, ranging from modest apartments to luxurious villas. Its real estate possibilities are anticipated to be substantially enhanced by the extension of the metro network to this area. Affordable housing alternatives are available in this area, which is gaining popularity with investors and homeowners alike.
Golf Course Extension Road
In terms of both residential and business activity, Golf Course Extension Road is already well-established. The region is well-known for its affluent housing developments, first-rate office buildings, and close proximity to social activities. This area is a good option for investors looking for luxury and mid-range residences. Cyber City and Golf Course Road continue to be attractive selections for people looking for commercial real estate. Major corporate headquarters, IT firms, and retail establishments are located in these neighbourhoods. Due to the ongoing need for office space, purchasing commercial real estate in these areas can result in significant returns.
Investment Strategies for 2024 in Gurgaon
Long-Term Capital Appreciation
Investors looking for substantial capital appreciation should focus on areas with high growth potential. Emerging localities with infrastructure development projects and upcoming business districts offer the prospect of long-term value appreciation.
If your goal is to generate rental income, target properties in established residential and commercial areas. Conduct a thorough rental market analysis to determine the demand and rental rates in your chosen location.
In Gurgaon, diversifying your real estate holdings can help reduce risk and possibly increase earnings. To balance your portfolio of investments, take into account a combination of residential and commercial properties.
Do your research thoroughly before making an investment. This entails investigating the track records of the developers, verifying legal approvals, and assessing the neighborhood's reputation. Working with a real estate professional might offer insightful advice.
Future Trends that can be seen in 2024 in Gurgaon
Gurgaon is a part of India's ambitious Smart Cities Mission, which aspires to upgrade urban regions into technologically innovative, environmentally friendly cities. Property investments that are in line with smart city efforts can be profitable and forward-thinking.  Additionally, the real estate industry is being impacted by digital transformation in a number of ways, including marketing and property management. Investors can improve the tenant or buyer experience and optimize their operations by keeping up with technology developments.
In Gurgaon, the use of co-living and co-working spaces is on the rise. Investors can look into chances in homes built to accommodate this changing desire for work and leisure. Additionally, sustainability is increasingly important in real estate. Energy-saving features and green building techniques not only lower running costs but also draw environmentally conscientious purchasers and tenants.
To sum it up, Gurugram offers a wide range of investment options in numerous industries. The city offers a wide variety of alternatives for investors, from the vibrant corporate hubs to the tranquil residential complexes. Gurugram continues to draw both domestic and foreign investors wanting to harness its investment potential thanks to its advantageous location, strong infrastructure, and expanding economy.
Financing options for real estate investment in Gurgaon include home loans from banks, joint ventures with other investors, real estate crowdfunding platforms, and private equity for larger-scale commercial projects. Choosing the right financing option depends on your investment goals and financial capacity.
While Gurgaon offers promising opportunities, investors should be aware of potential risks. These include market volatility, regulatory compliance challenges, infrastructure delays, and competition. Conduct thorough due diligence and stay informed to mitigate these risks effectively.
Yes, there have been regulatory changes aimed at enhancing transparency and accountability in the real estate sector in India, including Gurgaon. The Real Estate (Regulation and Development) Act (RERA) and other reforms have been introduced to protect the interests of buyers and investors.