Are you ready to take the exciting step on how to buy home in Delhi, but don't know where to begin? Look no further! In this step-by-step guide, we will take you through the entire process of purchasing a home in Delhi, from setting a budget to closing the deal. 
Whether you are an experienced investor or a first-time homebuyer, this guide will arm you with the knowledge and tools you need to find your perfect house in one of India's most exciting and dynamic cities. Now let's get going on the search for your ideal Property in Delhi!
Why is Delhi the best place to have your dream home?
One of India's best cities, Delhi is also home to some of the most exclusive and expensive properties.
Why should prospective homeowners pick Delhi NCR?
Buyers are frequently overloaded with choices and possibilities while looking for a home.
Due to the improving economic climate and expanding employment prospects, demand for real estate in Delhi NCR has increased significantly. If you purchase a home in Gurgaon or close to the Delhi-Gurgaon border, you will also receive a number of other advantages. You will be able to reside in a metropolis that is covered with lush vegetation. Also, this location has top-notch infrastructure. In Delhi NCR, there are numerous commercial centers, colleges, schools, and other amenities.
A step-by-step guide to buying your dream home in Delhi
Budget
Set a budget that you must adhere to and stick to it. You must create a proper budget and arrange your expenses, savings, and amount designated for mortgage payments so that there are no conflicts. Make sure the property you are purchasing will meet your current needs and be within your budget. Knowing the current primary demands of your family will assist you as a house buyer to make the best choice.
Finalize location and type of property
Choosing the type and location of the property you want is a crucial next step. You must choose the property type, such as a flat, builder floor, completed house, duplex house, row house, or plot to build a house, depending on your family's needs. Depending on the amenities and style of living you like, you can make this decision. You must also choose the sort of BHK home that you require.
After choosing the sort of property, you should concentrate on the area. We might all aspire to purchase a home in a prestigious area. Yet, prices in these places are quite high. As a result, you must compromise between your financial situation and the kind of community you want to call home. You might choose to search for a property close to the desired area where you wish to buy a home. Perhaps you may select a soon-to-be-premium neighborhood in the suburbs.
Read More: How to find the right Property in Real Estate
Rental rates in the area
You can get a good indication of the cost of real estate in the area from rental rates in the neighborhood. A house in a high-rent region is a better choice if you are only purchasing it as an investment.
Loan eligibility and EMI
The eligibility for a mortgage loan is based on your income, any outstanding obligations, your age, and your ability to repay the loan. Many loan or mortgage calculators are accessible, and they may help you estimate your loan amount and get a good notion of how much you need.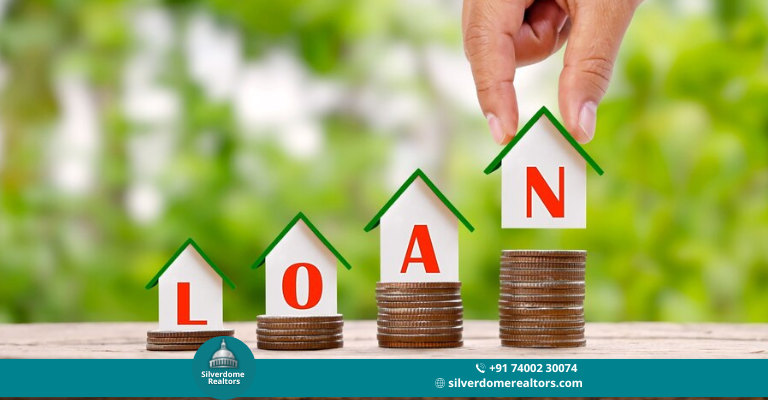 After determining your eligibility, you must determine the EMI you will pay throughout the chosen tenure. A home loan EMI calculator makes calculating EMI simple. The tenure and EMI you choose should reflect your financial situation. The EMI increases with shorter tenure and decreases with longer tenure. Your EMI shouldn't, as a general rule, exceed 40% of your monthly payments.
Decide the total loan amount
The majority of Indian banks and financial institutions lend applicants for home loans at least 80% of the total cost of the property. For instance, if your bank decides to lend you 80% of the cost of a house you want to buy for Rs 50 lakhs, you will be able to obtain a loan for Rs 40 lakhs. To buy your ideal property, though, you would need to put aside Rs 10 lakhs. Hence, it is usually advised to start with financial planning in advance and accumulate money for the down payment on your house loan if you have any plans to purchase a property.
For more tips read Tips to Reduce Interest Rates
Stamp duty & registration fee
There are a few extra costs involved in purchasing a home. It is required to pay fees including income tax, sales tax, and registration fees. All of these fees are collected by the Indian government. Once you've chosen the property, determine the stamp duty and registration fees applicable in your state. Every state has different prices; some may have higher costs than others.
Read More: Stamp Duty on Property in Delhi – Registration and Charges
Legal Clearance
As a buyer, you should confirm that the property has a free title before you sign a sale deed. One of the most significant legal papers is the sale deed. Please make sure that all fees, including property tax, water and electricity bills, maintenance costs, and housing society dues, are considered before signing a sale document. A selling deed must be required to be registered.
Property Insurance
The least important but necessary expense is property insurance. It serves as a financial safety net in the event that your property is ever damaged in some way. The price is reasonable and provides extensive coverage in the event of title issues, specific damages, or any legal issues.
Choose the house insurance plan that best fits your needs among the many that are offered on the market. They have several forms of defense. Once everything is finished, you can live in peace in the home of your dreams or take advantage of the rent from your property.
Check all documents
A capital-intensive investment like real estate can be quite stressful for the buyer if a tiny error is made. A buyer must therefore exercise due caution when reviewing the property documentation. A buyer can assure document examination and verification of pertinent facts about the property with the help of competent legal counsel.
Read More: What Is Digital Real Estate And Is It Worth Investing In?
Conclusion
In conclusion, this step-by-step guide on how to buy home in Delhi will assist you in purchasing the home of your dreams whenever the notion of buying a home crosses your mind. Keep in mind the following things: researching the market, understanding property costs, determining eligibility, reviewing the list of required documents, etc. Also, if you believe that now is a good moment to buy a house, you should give it some thought. You can reach out to a real estate consultant in Delhi for more best details and guidance. If the market is favorable, you can search for the appropriate type of property. Invest in the home of your dreams if the circumstances are favorable.
FAQ
Can I buy a home in Delhi without a real estate agent?
Yes, you can buy a home in Delhi without a real estate agent, but it is not recommended. A real estate agent can provide valuable guidance, support, and expertise throughout the entire home-buying process.
How do I ensure that the property I am buying is legally sound?
To ensure that the property you are buying is legally sound, it is important to get all necessary legal documents in order and to conduct a thorough title search. You can also hire a real estate attorney or agent to assist you in this process.
What should I do if I encounter issues during the home-buying process?
If you encounter issues during the home-buying process, it is important to remain calm and consult with a real estate attorney or agent for guidance. They can help you navigate any legal or financial issues that may arise and ensure that you make an informed decision about your purchase.
What are some of the best neighborhoods to buy a home in Delhi?
Some of the best neighborhoods to buy a home in Delhi include South Delhi, Vasant Kunj, Saket, Greater Kailash, and Dwarka. However, the best neighborhood for you will depend on your specific needs and preferences.
What is the process for obtaining a home loan in Delhi?
The process for obtaining a home loan in Delhi typically involves filling out an application, providing documentation such as proof of income and identity, and getting pre-approved by a lender. It is recommended that you shop around for different lenders to ensure that you get the best interest rate and terms.